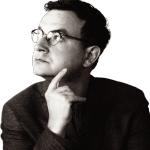 Sven Pritzkoleit,
Pharmacist and self-tought Freelance-Perfumer, created more than 30 perfumes for his brand SP PARFUMS and other collaborations.
2016, published his book DUFTSPUREN
2019 WINNER Art & Olfaction Award
Home is, where the perfume is. That déjà-vue's our childhood's scents and memories and the deepest parts of our dreams, instincts and soul –
I hope, we will find that perfume …
---
Since my early childhood years I am obsessed by the senses of taste and smell. First because of my grandmother's cooking and gardening. And later by my mother wearing "Magie Noire" by Lancome. Everytime I was interested in any kind of art-music, theatre, painting …
At least I studied pharmacy and became a pharmacist in the family owned apothecary. During the last 20 years I studied perfumery by myself, beginning with the raw materials- naturals and synthetics- and reading books by E. Roudnitska, J.-C. Ellena, Mandy Aftel, Paolo Rovesti, Paul Jellinek and many more. Impressed by the combination of traditional and modern- experimental perfumery I did my first real perfume composition named Pink Patchouli in 2006.
The following years I created many formulas, looking for my own signature.

---
Downloads: