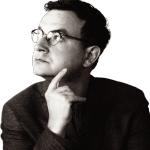 Sven Pritzkoleit,
Pharmazeut/Apotheker und Autodidakt-Parfumeur, beschäftigt sich seit mehr als 20 Jahren mit Riechstoffen und Duftkompositionen. Das Buch erscheint anlässlich der Präsentation seiner ersten Duftkollektion.
Home is, where the perfume is. That déjà-vue's our childhood's scents and memories and the deepest parts of our dreams, instincts and soul –
I hope, we will find that perfume …
---
Since my early childhood years I am obsessed by the senses of taste and smell. First because of my grandmother's cooking and gardening. And later by my mother wearing "Magie Noire" by Lancome. Everytime I was interested in any kind of art-music, theatre, painting …
At least I studied pharmacy and became a pharmacist in the family owned apothecary. During the last 20 years I studied perfumery by myself, beginning with the raw materials- naturals and synthetics- and reading books by E. Roudnitska, J.-C. Ellena, Mandy Aftel, Paolo Rovesti, Paul Jellinek and many more. Impressed by the combination of traditional and modern- experimental perfumery I did my first real perfume composition named Pink Patchouli in 2006.
The following years I created many formulas, looking for my own signature, always with the focus on characteristic themes of my "scentific" memory – the Essential Collection. Each of the 10 Essential SP Parfums is composed and manufactured by myself with high quality raw materials.
Each of the 10 Essentials is bottled in an elegant 30 ml sprayer with the label in "old apothecary" style, also the package design, remembering herbal tea boxes, is related to my profession as a pharmacist and the "good old times" too.
Heimat ist dort, wo wir das Parfum finden, das uns die Gerüche der Kindheit zurückbringt und die Erinnerungen an eine Zeit der Neugier, Unbeschwertheit und Geborgenheit. Dieses Parfum ist tief in unserem Bewusstsein und in unseren Träumen verankert. Vielleicht wird es uns begegnen …
---
Die Vergangenheit holt uns ein, die Erinnerungen an den Geschmack und Geruch unserer Kindheit – geprägt von der Küche meiner Großmutter, die ohne ihren Garten nicht leben konnte, und erinnert an den Duft von MAGIE NOIRE von Lancome, den meine Mutter an besonderen Tagen trug. Zu jeder Zeit meiner Kindheit und Jugend war ich mehr den Künsten verbunden, trotzdem studierte ich schließlich Pharmazie und wurde Apotheker in der elterlichen Apotheke, wo ich 18 Jahre arbeitete. Mehr als 20 Jahre beschäftige ich mich bereits mit der faszinierenden Welt der Riechstoffe, tudierte einschlägige Fachbücher, bis ich damit begann, eigene Düfte zu komponieren. Zwischen Tradition und Moderne pendelt PINK PATCHOULI, mein erstes Parfüm, von 2006. In den Folgejahren entstanden mehr als 200 Formeln, von denen ich Ihnen in der ESSENTIAL COLLECTION meine Lieblinge vorstellen darf. Jedes der 10 ESSENTIAL SP PARFUMS wird von mir in kleiner Auflage in Manufaktur mit höchsten Ansprüchen an die Qualität der verwendeten Rohstoffe hergestellt. Jedes der 10 ESSENTIALs ist in einem eleganten 30 ml Sprayflakon, versehen mit einem von mir handbeschrifteten Apothekenetikett – und auch die Kartonage, die früher der Aufbewahrung von Tees und Kräutern diente, erinnert an meine Herkunft und auch ein bisschen an die "guten alten Zeiten".
---
Downloads: